Now that a new year is officially upon us, many people across the world are making New Year's resolutions (whether they follow through with them is an entirely different matter) from losing weight and changing their diet to changing careers, maybe working towards being kinder, etc. Some people are even making the switch to eating less meat or going completely vegetarian/vegan as part of their New Year's resolution. With this in mind, Paradise Grills wants to help you stick with your resolution of eating less meat or going "veg", by offering delicious meat-free recipes, that you'll want to incorporate into your regular menu.
Note: There are no hard and fast rules that say "non-vegetarians" can't enjoy the following foods. Even if you're a self-proclaimed carnivore, these recipes will be a great alternative to your regularly scheduled mains and sides. Remember, mom said to always eat your veggies!
Below you'll find, mouth-watering vegetarian dishes that can be grilled to perfection using your outdoor grill in Tampa.
Vegetarian Grilling on an Outdoor Kitchen in Tampa
A common complaint among recently turned vegetarians or vegans of the past is the lack of variety and flavor options they have when attending a barbecue, however, these days, vegetarian chefs and companies have made significant advances towards making delicious vegetarian/vegan food for barbecues. Just like a regular barbecue goes, when grilling on your Tampa outdoor grill, you want to have a basic idea of what your "main" entree will be, the same can be said for vegetarian grilling. Here are just a few ideas to serve as your vegetarian main:
In addition to the above recipes, many vegetarian and vegan companies make great tasting meat substitutes in the form of meatless burgers, "beef tips", sausages and more. A helpful tip is to try meat alternatives from different brands to find out which flavor profile you most enjoy before throwing a "veg" grill party for family and friends.
One of the reasons that many people return to eating meat is because veggies and other meatless foods don't leave us with the same type of "fullness" that you get when you eat meat. Because of this, you'll need to eat a little more to fill up or until your body is used to the "lighter" feeling of not eating meat.
So now that we have an idea for our Tampa outdoor grill mains, let's move onto the sides, of which there are many. We've listed just a few here, but make sure to do your own research, you may find another recipe that you'd love to try:
Desserts You Can Make on Your Tampa Outdoor Grill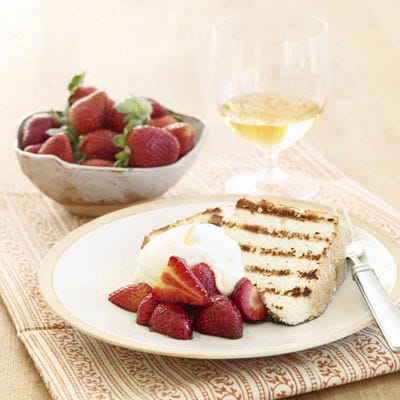 The grilling doesn't have to stop at savory foods. Round off your meal with the following scrumptious desserts which are all vegetarian, of course:
Making the switch to vegetarianism or trying to eat a little less meat is a personal choice and we hope these recipes can help you enjoy the foods you love on an outdoor grill in Tampa. If you need to increase or upgrade your current grill, be sure to visit a showroom near you.