Super Bowl LIII is just a few days away — which means it is time to getting ready for your game day party with the best super bowl recipes. If you aren't one of the lucky few watching the big game at Mercedes-Benz Stadium in Atlanta, chances are you'll be "fangating" somewhere during the game. Now is the perfect time to get your Orlando outdoor kitchen ready with the help of Paradise Grills.
"Fangating is the same thing as tailgating — you eat, drink and watch sports with friends and family — you are just doing it in a different location instead of at the stadium, whether it is at home or a sports bar or wherever," says Daina Falk, Founder, and CEO of Hungry Fan. If you are going to be "fangating" with an Orlando outdoor kitchen, you are going to want to have the right recipes to make your party a success. Here are a few suggestions:
Super Bowl Recipes That Everyone Will Love
Game Day Sangria
This comes from Falk's Hungry Fan website. If you're a fan of white wine sangria, this is the drink for you! It's colorful, a tad sweet (which will depend mostly on what wine you choose), and awesome served cold. This is the perfect cocktail hour drink to serve on Super Sunday in your Orlando outdoor kitchen.
Ingredients:
Berry Wine
1 cup blueberries, blackberries and raspberries (⅓ cup of each)
16 oz pinot grigio (whatever brand you prefer)
Tricolor Berry Wine Cocktail
8 oz. infused wine
1 (750-milliliter) bottle pinot grigio
1 (1-liter) bottle club soda, chilled
3/4 cup simple syrup*
Ice
Directions:
To make the Berry Wine:
Place berries in 16 oz ball jar.
Fill jar with pinot grigio.
Seal lid and store in a cool place. (You do not need to store in a fridge).
24 hours later your alcohol will be infused!
To make Cocktail:
Combine all ingredients in pitcher. Serve over ice.
FANGATING™ TIP:
To make a simple syrup, combine 1 cup of granulated sugar with 1 cup of water in a saucepan over heat until the sugar has dissolved.
Smoked Bacon & Tomatillo Guacamole
Some say that guac is an absolute must make super bowl recipe. If you are inviting any of these people, to eat in your Orlando outdoor kitchen, give this one a try and take your guacamole to the next level by adding smoked bacon and smoked tomatillos! Smokey, creamy, delicious!
Ingredients
2 slices thick-cut bacon of your choice
4-5 tomatillos, you will only use about 2 for the guac
2 medium-sized ripe avocados
1 tablespoon fresh-squeezed lime juice
2 tablespoons shallots, finely minced
2 tablespoons cilantro, roughly chopped
Salt and pepper, to taste (roughly ½ teaspoon salt, ¼ teaspoon pepper)
Instructions
To smoke your bacon and tomatillos:
Preheat smoker to 250 degrees, fruitwood preferred for flavor
Place bacon pieces directly on the grill grate and smoke for 60-90 minutes or until crispy.
At the same time smoke the tomatillos for three hours in a glass baking dish or disposable foil pan.
Let cool, and then dice your tomatillos.
Use about ¼ cup of the diced tomatillos for the guacamole, and a total of 3 tablespoons of the diced smoked bacon.
To make your guacamole:
In a large bowl, scoop out the avocado. Add 2 tablespoons of the diced bacon, ¼ cup of the diced tomatillos, lime juice, shallots, cilantro, salt and pepper, and mash together with a fork until you reach your desired level of chunkiness. Adjust salt, pepper, lime juice to your taste preferences.
Transfer to serving dish or bowl. Top with 1 additional tablespoon of diced smoked bacon.
Recipe Tip
A secret shortcut if you don't have a smoker and don't feel like smoking your tomatillos. Use store-bought roasted tomatillo salsa. Just use about 2 tablespoons, and instead of smoking your bacon, just use regular crispy bacon. It won't have the same magic kick as the smoked version, but it will still be good. Especially for serving in your Orlando outdoor kitchen.
Salsa Verde Football Bomb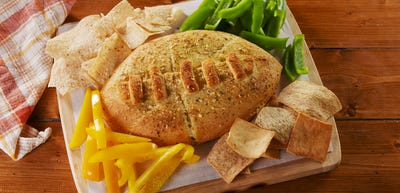 This is the perfect dip to show off to all of your friends and impress everyone at your watch party in your Orlando outdoor kitchen. To get a perfect football shape, make sure your dip is cold. It will shape nicely and be a little bit of a cleaner process. Serve it with some buffalo wings and call it a day!
Ingredients
2 (8-oz.) tubes refrigerated crescent rolls
2 c. salsa verde ranch chicken dip
3 tbsp. melted butter
1 tbsp. freshly grated parmesan
1 tsp. green chile ranch seasoning
Crackers, for serving
Directions
Preheat oven to 350° and line a small baking sheet with parchment paper. Roll one sheet crescent dough out on the prepared baking sheet, and pinch seams together to seal. Place salsa verde ranch chicken dip in the center, then use your hands to form mixture into a large football shape.
Place the second sheet of crescent dough on top and press lightly to wrap dough around football. Pinch together seams and press around bottom edges to seal. Using a paring knife, trace around the football to remove excess dough. (Reserve scraps to shape the laces.)
Cut scraps into football laces and lay in the center of football. Brush all over with butter, then sprinkle with parmesan and seasoning.
Bake until golden, about 25 minutes. Serve warm with crackers.
Cowboy Baby Back Ribs
Here's another recipe from Falk's Hungry Fan Website. Mouth-watering, fall-off-the-bone, slow-smoked beef brisket or slow-cooked ribs are a Texan favorite and is one of the easiest super bowl recipes that are great for serving in your Orlando outdoor kitchen.
Ingredients:
‍2 pounds pork baby back ribs
½ cup brown sugar
2 tablespoons organic ketchup
2 tablespoons soy sauce
2 tablespoons Worcestershire sauce
2 tablespoons dark rum
¼ cup chili sauce
1 clove garlic, finely minced
½ teaspoon dry mustard
½ teaspoon ground black pepper
Directions:
Preheat oven to 350 degrees F (175 degrees C).
Cut the baby back ribs into the serving size you prefer and then wrap in two layers of tin foil.
Bake in a baking or roasting dish/pan for 1 1/2 hours.
Once cooked, unwrap your ribs and drain the drippings. (Tip: You can freeze the drippings to use later as a broth or in soups!)
Place the ribs in a large roasting pan.
In a bowl, mix together the brown sugar, ketchup, soy sauce, Worcestershire sauce, rum, chili sauce, garlic, mustard, and pepper. This is your marinade!
Coat the ribs with sauce and marinate at room temperature for 1 hour, or if you have time you can even refrigerate them and let 'em get all yummy overnight.
Preheat your grill (medium heat).
Brush grill grate with oil.
Place the ribs on the grill and cook for 30 minutes, basting with the marinade. Serve.
Peanut Butter Football Cookies
Are you ready for some football? Football cookies, that is? Here's one of the best super bowl recipes to serve when you are hosting a football party in your Orlando outdoor kitchen.
Ingredients
1/2 cup unsalted butter — softened
3/4 cup peanut butter
3/4 cup packed brown sugar
1/4 cup granulated sugar
1 large egg
1 teaspoon vanilla
1 tablespoon milk
1/4 teaspoon salt
1/2 teaspoon baking soda
1 3/4 cups all-purpose flour
1 1/2 cups chocolate chips
1 teaspoon Crisco or vegetable oil
White icing or white chocolate chips — for the laces
Instructions
Preheat oven to 350°F. Line 2 cookie sheets with parchment or Silpat baking mats.
Cream butter, peanut butter, and both sugars in the bowl of an electric mixer fitted with the paddle attachment. Add egg, vanilla, milk, and salt and baking soda. Mix until combined. Slowly add flour and mix until the dough comes together.
Scoop 1 tablespoon-sized balls of dough. Place on cookie sheet 2" apart. Press lightly with your palm to flatten to about 1/2" thickness. Use your thumb and forefinger to pinch the ends to make the cookies look like footballs.
Bake for 8-10 minutes, until they just begin to brown. Cool completely on cookie sheets.
Melt the chocolate chips with the Crisco or oil, heating in 30-second increments, stirring after each, until smooth. Place chocolate in a Ziploc bag and cut off a teeny tip (or use a squirt bottle). Outline the football shape on the cookie, then fill in with the chocolate. Tap the cookie sheet to even out any wrinkles in the chocolate, then chill to harden.
Make the laces with a little white frosting or some melted white chocolate chips. (White frosting is easier!)
Store in an airtight container for up to 3 days.
Now is the perfect time to get your Orlando outdoor kitchen ready with the help of Paradise Grills. Contact us today and make yourself the big winner on Super Sunday.